Mikaela Shiffrin – Spindleruv Mlyn 2011
Eight years ago, ski fans following the women's World Cup tour in March 2011 were mostly focused on the intense battle for the big crystal globe opposing USA's Superstar Lindsey Vonn to her friend from Bavaria, Marie Riesch. The American came in 3rd in the giant slalom – her first World Cup podium in the specialty – while Hoefl-Riesch was a far 29th after a big mistake in the second run. Vonn scored again precious points in slalom with her 16th place while Maria skied in the final run.
Yet a few weeks later, the skier from Garmisch-Partenkirchen was able to successfully defend a short lead in the overall standings over Lindsey at the dramatic World Cup Finals at Lenzerheide – clinching her first and only overall title by mere three points!
Nearly nobody took notice during that exciting Czech event of a very young US racer who took part in her maiden World Cup event that weekend – a few hours only prior to her 16th birthday.
In slalom she clocked the 32nd best time in the first run – with her bib 40 – only 5/100 of second from the top-30s, a day after finishing 43rd in the first run of the giant slalom with bib 46!
An established US reporter who had been following the World Cup tour for some time, Brian Pinelli from New Jersey, had the good idea to meet and interview the young racer who already had scored several promising results in international events in North-America, mostly on the Nor-Am circuit.
Here is his story published a US Ski Magazine in spring 2011.
Young Racer Shiffrin Makes World Cup Debut
SPINDLERUV MLYN, Czech Republic –March 14th -2011.  Up-and-coming ski racing talent Mikaela Shiffrin entered the start house on Friday morning at her first career World Cup race competing in a giant slalom in the Czech Republic. Naturally, It was quite a thrill for the Burke Mountain Academy racer who turned 16 on Sunday.
It wasn't the typical Sweet-16 birthday celebration that most teenage girls experience.
Up-and-coming ski racing talent Mikaela Shiffrin entered the start house on Friday morning at her first career World Cup race competing in a giant slalom in the Czech Republic. Naturally, It was quite a thrill for the Burke Mountain Academy racer who turned 16 on Sunday.
"It's like a dream really coming true here," said Shiffrin, about her first weekend of big-time World Cup racing. "I can't explain it, but it's something close to amazing. I'm just excited to be here."
Shiffrin, who shares time between home in Avon, Colorado, and school in Vermont along with her brother Taylor, was the youngest racer in the 49-competitor field. Starting 43rd, she missed making the second run top 30, but was back at it on Saturday in the slalom, her best event.
While it was Shiffrin's first experience on the largest stage competing against the world's elite female ski racers, three-time World Cup champion Lindsey Vonn was locked in a heated battle with Maria Riesch for this season's overall title.
"Lindsey is so nice. I was nervous about meeting her because she is one of my biggest idols," said Shiffrin. "Sarah (Schleper) too and really all the U.S. Ski Team girls."
"They've all been great, really supportive and they've told me that I could ask them anything," she said. "I'm mostly trying just to not get in their way."
"She's pretty focused and it's so cool to have somebody with so much talent come to our team," said four-time Olympian Sarah Schleper about Shiffrin. "You love to see that. It's making me inspired to ski another year."
Shiffrin performed admirably in the slalom, narrowly missing making the top 30 for the afternoon run, after finishing 32nd in the first run on the Svaty Petr Black Course, a piste which many of the other racers described as tricky and icy on the upper part. The young racer was a mere 0.05 seconds away from qualifying for the second run.
"I had a couple of mistakes, but knowing that they (other racers) came down and had mistakes too and were still fast makes me want to get to that level even more," said Shiffrin on Saturday following her run.
"It was a good experience for Mikaela and I'm glad we brought her over," said U.S. Head Coach, Alex Hoedlmoser. "She handled everything really well and did a great job. She had a big mistake right before the finish and still almost qualified. We know she has the speed to qualify and with another prep period, she's going to be good."
It has been a sensational season thus far for Shiffrin. She won two Nor-Am races in December in Panorama, British Columbia and then duplicated the feat in January at Sunday River, Maine, where she convincingly won slaloms on consecutive days by the large margins of 0.69 and 0.72 seconds.
In February, she captured a bronze medal in slalom at the World Junior Championships in Crans Montana, Switzerland, despite skiing with a 24-hour virus. Of the 108-racer field, Shiffrin was the fifth youngest to take to the hill.
"It really prepared me for this," she said about her World Championship experience and World Cup debut. "In the finish there are so many cameras around you and people checking equipment. It's just so intense. And now I come here and it's another step above. It keeps on getting better. It's just a surreal experience."
But what about a tangible birthday present? Every sixteen-year-old girl must receive something that she will cherish for years to come.
"I'm traveling to Vancouver for Nor-Am finals and I'm going to fly business class, that's my birthday present," said an enthusiastic Shiffrin. "I'll have an extended birthday because of the nine-hour time difference. It will be nice."
Brian Pinelli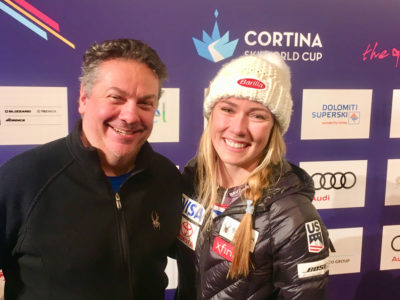 PS : So much fun to think back eight years ago and unbelievably hard to believe that this precocious 16-year-old teenager would blossom into one of the world's best female ski racers ever. I believed Mikaela had great potential, coming off a bronze medal at World Junior Champs and Nor-Ams success earlier in the winter, but not even Nostradamus could have surmised that the starry-eyed, young ski racer's athletic career would rocket into what it is has become – 54 World Cup victories at mid-January 2019, two Olympic gold medals, three slalom FIS gold medals, en route to her third Overall title in a row – and certainly so many more accomplishments to come.
I remember looking forward to meeting Mikaela at her very first World Cup race for Ski Mag in March 2011. When I approached her in the Spindleruv Mlyn finish area, she seemed shocked that anyone even knew who she was. It was quite funny. But even then, a few days before her 16th birthday, she was a pretty good interview – enthusiastic, candid and bubbly. The two of us flew under the radar as Lindsey and Maria Riesch were locked into a tight battle for the overall World Cup title. I absolutely loved Mikaela's comments about being so nervous meeting Lindsey and just trying to stay out of the way of the other U.S. girls.
Can't wait to see Mikaela race and interview her once again at the Spindleruv Mlyn ski resort located in the Krkonose area, here in my adopted home country. Unfortunately, this time around, I won't be the only journalist tracking her down. Or maybe, if I tease her enough about being the only one interested in talking to her eight years ago, we can share a good laugh and perhaps she will oblige to once again give me another "exclusive" interview. I can only hope! #rockstar
Written by: Patrick Lang
Photo: fis-ski.com